Charlotte-Mecklenburg Schools is dedicated to providing a Personalized Learning (PL) Environment for every child, everyday for a better tomorrow. Our PL Initiative is based on our CMS's Strategic Plan 2018. Our first co-hort of 15 PL school design teams created our Personalized Learning definition and foundation (created by teachers for teachers). Follow our conversation on Twitter @cms_pl, Instagram @cms_pl #cmspl and/or Facebook.
Personalized Learning in Charlotte-Mecklenburg Schools aims to develop the whole child and empower them to take ownership of their learning by providing them with multiple pathways to demonstrate mastery learning in order to be successful and productive 21st century citizens in an ever-changing world.
We have four corner-stones that equals our foundation in implementing a Personalized Learning Classroom: Whole Child, Student Ownership, Mastery Learning and Paces, Playlists and Pathways. Here are some of our Look For's in a classroom.
Are you outside of Charlotte-Mecklenburg Schools (CMS)? Do you want to see Personalized Learning in Action? Then come visit our school PL tours! Click here for more information.
Check out our NEW 2016-17 PL Vignettes from our PL cohort's one, two and three!
Take a look at how we are growing our work with our PL Change Agent Fellows!
Read about CMS Personalized Learning in local and national articles!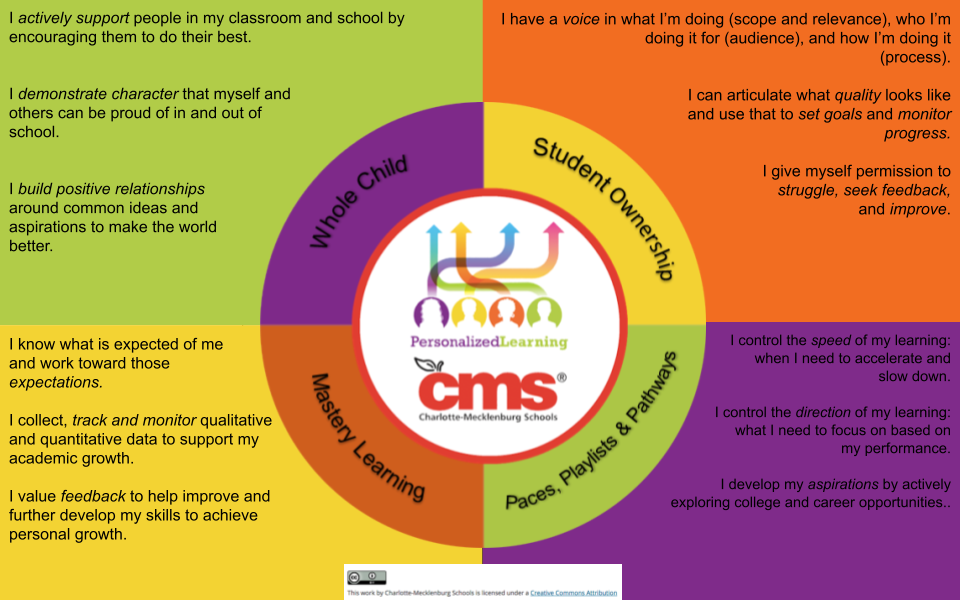 Our rubric assessing our PL Learner Profiles.
Want to hear what #cmspl is from the students perspective? Want to hear what they like about it? Check out this video from a variety of students from K through 12th across the district.
Personalized Learning in CMS from teachers perspectives.
If you would like to be considered for cohort five of the Personalized Learning Initiative, contact Jill Thompson.